Wave Trade is a Sales Force Automation application,
CRM and digital catalog, primarily for tablet devices.
Wave Trade X Website
Totally integrated with ERP software. Multi plataform, Android, iOS sistem and Web.
Integrated with Google Maps and Wave Maps. Add GPS location of Customers.

AUTOMATIZE  YOUR SALES TEAM 
Wave Trade allows to have your ERP data, always be in synch with your tablet device.
Place an orders, issued payment receipts, review costumers information or consult pendent orders. Consult your digital catalog
and complete sales information. All these are some powered funcions about Wave Trade.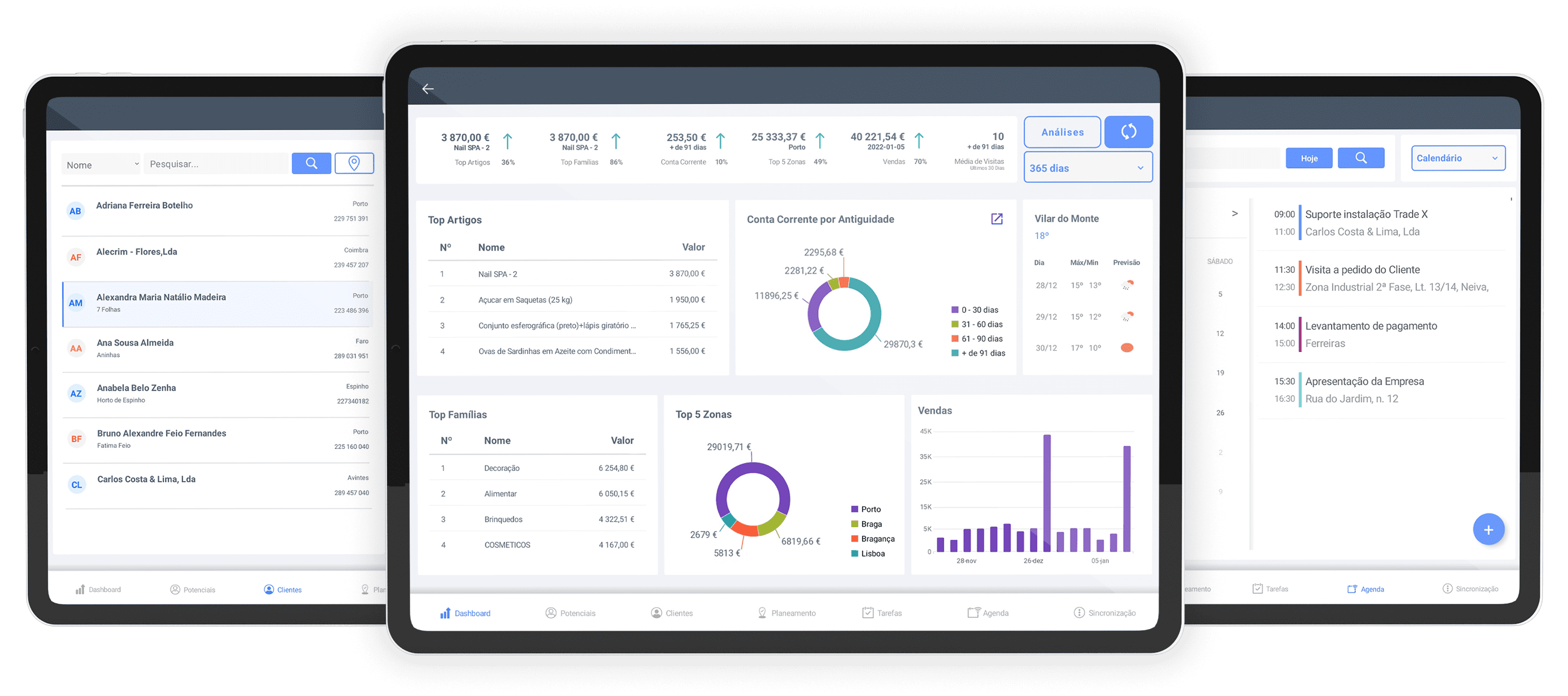 WAVE TRADE X FEATURES
---
Documents
Orders,commercial proposal, sold products and sales history. Price policy of ERP softwares of the various ERP's through lines or digital catalogue.
Prospects
Create Potential Customers to track all the details, such as Visits or Proposals and all process and later, convert into Customers.
Account
Consultation of post-dated checks, bills of exchange and current account statements. Credit validation. issuance of receipts and registration of means of payment.
Visits
Register visits reports on your Customers or Potentials, don't miss details for the next visit, or access visits launched in the company and follow up.
Schedule
A powerful and versatile agenda, with day, week or month views, that will help you keep all events up to date. This tool allows occasional events or that they are affected to your Potential and Customers.
Information Analysis
Targets by seller/month, top 100 best sellers. Customers who have not purchased for more than x's days. Analysis of products sold by articles/month.
Planning
Create Visit Plans for time intervals, control the ordering and explore the location on Google or Apple Maps. Initiate Visits and control the effectiveness of the Planning.
People
In each Potential or Customer, there are several interlocutors. With this area you can keep your information base permanently updated with all the contacts that help you to do business.
WAVE TRADE X – PORTAL
In addition to guaranteeing all the concentration of the commercial operation, this application has several modules available,
such as the Dashboard, Potential Customers, People, Scheduling and Opportunity Management, being able to monitor
and monitor the activity of its entire commercial team with permanent dynamics.

WAVE TRADE X – PORTAL FEATURES
---
Planning
The Visits Planning can be created on the Tablet or on the Web Portal, either by the Salesperson or another employee with this function and, of course, updated in any of the applications.
Opportunities
The various business opportunities that are identified by the Commercial Department or created on the Portal by the Back Office team, can concentrate the Proposals, Visits and all other aspects relevant to the realization of the business.
Schedule
The agenda of the entire commercial team centralized in a single place. Here you can consult or make appointments for your commercials, ensuring greater efficiency in all contacts.
Tasks
You can create tasks, assign due dates, mark favorites or sort by status. Tasks can also be assigned from the back office team. This makes it easier to meet your deadlines and commitments.
View more Wave Trade X Features
The Wave Solutions company present a new Wave Trade app teaser.
 INTEGRATED WITH

And other more softwares.
Contact us
Phone: +351 253 824 293
Email: contacto@wavesolutions.pt 
Our Products